[Ty's Birthday Surprise]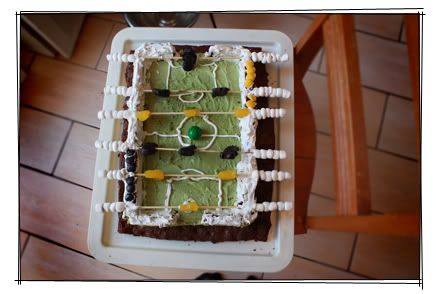 The day before Ty's birthday, Mal and I attempted to build a Fooseball Cake. We decided that ready to make cake mix was the best in case something went wrong!!! We made a cake base and lined brownies around it then smeared green icing all over it. I got a bottle of squeeze icing to put all around it. Kind of gross but everyone loved it! They devoured it!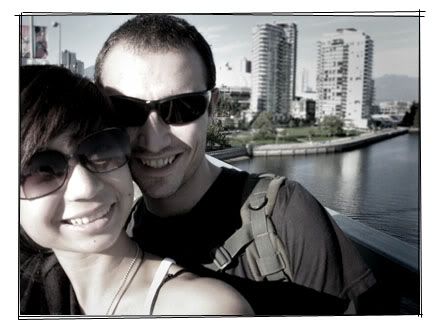 In the day time, I had to "distract" Ty. We went exploring! (Something we haven't done in a long time) We decided to visit Kitsilano and go to the Planetarium. Well I kinda decided to go to the Planetarium and he just agreed to. :) It's pretty neat that we can just hop on a bus now and get places. I guess it does suck to take transit but when it does get you where you want, it's good. :P .
So the Planetarium didn't turn out as great as I had hoped. I was really excited about it... should have gone to Science World though!!!! It was kind of lame. The exhibits weren't all that captivating. There was a simulator ride that was kind of exciting however once we strapped in, they announced that the ride wasn't working! GRR! They refunded us 2 dollars each. Pft. It sooo was not worth 13 dollars.
Well, we decided to just enjoy the sunshine and walked the sea wall. We walked to Granville Island for lunch then continued walking. 5 hours of walking later, we finally reached his house where some people already were... :D! They hid in a corner and surprised him. :) He had absolutely no idea.
We had cake and talked. Some more people showed up. Then we watched the birthday video I'd put together (unfortunately I can't put it up since there are so many birthday testimonials on there). I managed to get in contact with Ty's best friends from back home and they helped me put together some birthday wishes for him. :)
Posted by jme at
6:52 PM
|
Comments (0)