[Jme's Wardrobe]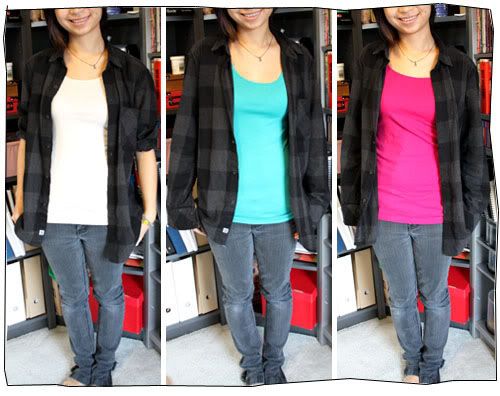 My standard-I-have-no-time-to-pick-out-an-outfit is generally jeans, a tank top, a t-shirt, a hoody and outer jacket. Sometimes the hoody is substituted with a long sleeved collared shirt. I'm a huge fan of getting the same thing but in a few different colours. Hey tank tops are sometimes 2 for 10! It's great!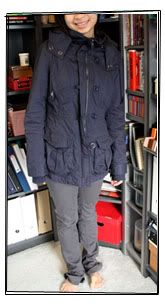 Over time I've found that the t-shirt, jeans and hoody thing is great for work and hanging out. It suits my personality and haircut! But I stand out like a sore thumb when I'm at fancy dinners, photography events and other not-so-casual meetings.
I've been looking into different sorts of body shapes and cuts in clothing and found that certain styles have been working for both casual and semi formal occasions. When at events, I look around and everyone getting dolled up and every time I try to throw some make-up on my face it literally looks like it's been thrown on. I just don't get it! Maybe I should just get some really red lipstick.
In my head I have a list of things which I think are must haves of each category. I've recently picked up a formal jacket and a couple tank tops with little roses on them for a not-so-formal price which I was quite happy about. I guess I have to get used to it as well as grow my hair out a bit. Some days I like the spikey-shortness of my hair, other days I wish my hair was long and flowy and I could curl it for real. If only hair was like clothes. Suppose I could get wigs but that's just weird!

Posted by jme at
5:11 PM
|
Comments (0)