[Alberta Day 6: Snowboarding on Marmot]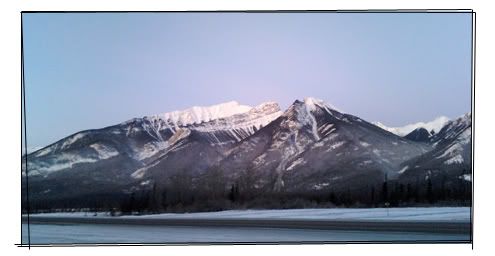 We were picked up super early on Monday and drove 2 hours to Marmot Ski Resort, Jasper. Everyone told me I'd see some animals here but I didn't! :(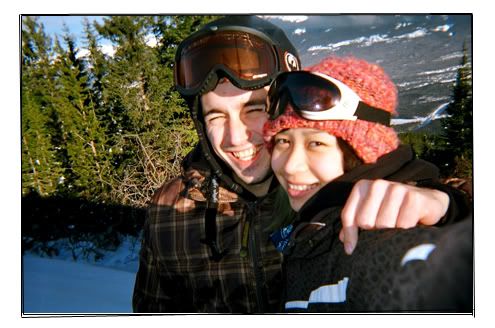 We planned to get there just as the resort was opening and since it was a Monday we figured it wouldn't be packed. Boy was it packed. I guess everyone was still on Christmas vacation.
We got our stuff ready. Boarding pants.. boards.. gloves.. goggles.. etc.. and then Jake, one of Ty's buddies locks the keys in the truck along with his money and jacket. At first they wanted to break a window to get in. But then we decided we had all we needed to board and we'd pay for his ticket and lunch first. It worked out well and the massive line to get tickets wasn't too bad.
I had to get used to my board since we did a rental. They were really nice boards but just a wee bit bigger than mine and so the bindings were slightly further apart. It's harder to board when you have such a wide stance!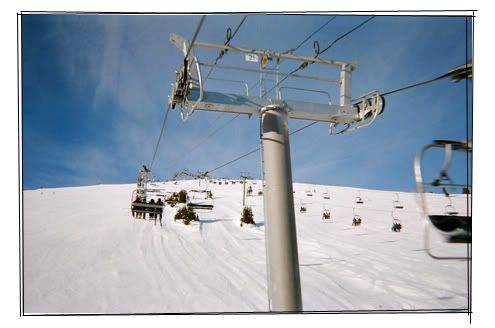 O Em Gee I thought getting on the chairlift at Cypress or Whistler was scary. These chairs are FAST and they just scoop you u and man were we HIIIIGH up!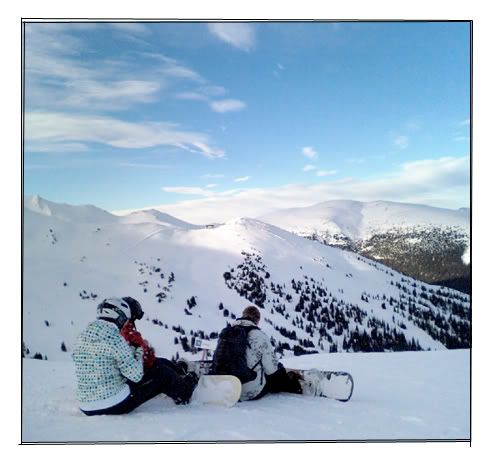 Ty told me that BC doesn't have real mountains and I was kinda like.. well our mountains are pretty high up. We can see the entire city from our mountains. Well on Marmot you could see the entire Rocky Mountain Plain. And when you get off the chairlift (it dumps you off), your legs get wobbly just looking down. On the sides of the bowl were huge walls of fresh snow.. meaning if someone hit it, there would definitely be an avalanche. THAT scared me!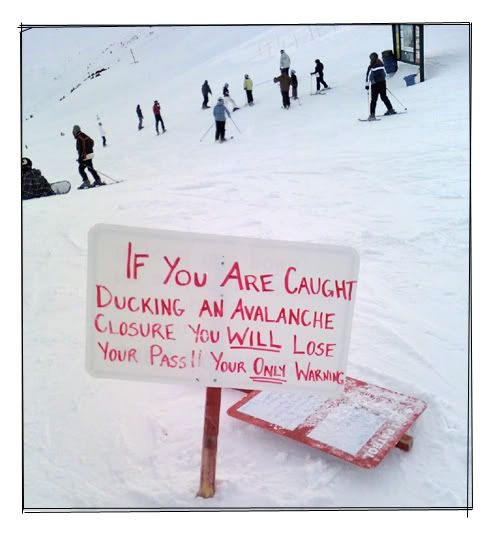 The first run was a bit scary. The snow over there is a little different from BC. BC has light fluffy snow but when its carved out it becomes a little moist and so it slows you down a wee bit. In AB, it's so cold that the snow becomes packed and crunchy and extremely slippery! In BC when there's little lumps of rocky snow, you WILL crash when you hit it. In AB, I was scared that was going to happen but you could just go right over them. And because it was such a huge area to board on, it was a little easier to ride coz I wouldn't be scared of hitting someone.
We hit huge bowls which I was terrified to go down at first but once I realized I just had to keep going, it was cool. These bowls are so deep they almost go vertical when you go down and it's the same on the way up and if you don't go the speed you'll be hiking up.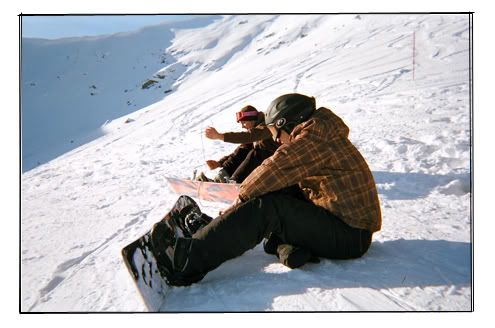 Ty and I did some hiking when we got stuck in some trees. That was tiring. D:
After a few runs, we had to head down for lunch and call up AMA to come open the car for us. The guys were on the phone for a good 45 minutes before getting their information over. We were put on hold so much that Jake just decided he was going to smash his window.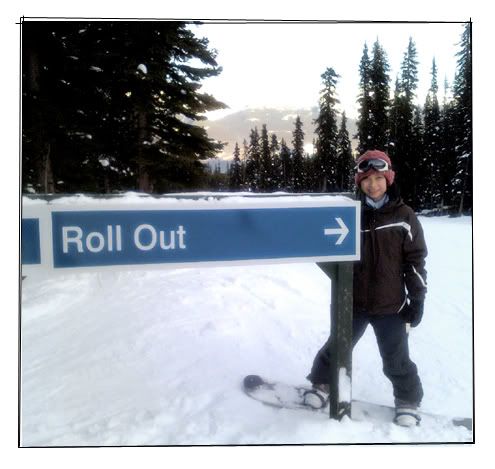 After lunch we got a few good runs in and by then I was warmed up and not so scared of flipping on my board. When the hill was closing down around 4, we had to reach the base and head up to the parking lots on this thing called a T-Bar. I've used a Rope Pull or Tug before where we just hold on to rope and it pulls us up the hill instead of the chairlift. This one was a giant plastic T that went between your legs and pulled you from your inner thigh and Ty wanted me to go first so I wouldn't get left behind. I was like.. ok well how hard can it be. So here I am standing there. Lady puts the plastic between my legs and it goes.. and then I freak out coz my leg isn't on my board so it pulls me sideways instead of straight. Then they were like well you have to pay attention!!! Ohhhhhh.... After that it was pretty easy to do. Just like water skiing but upwards!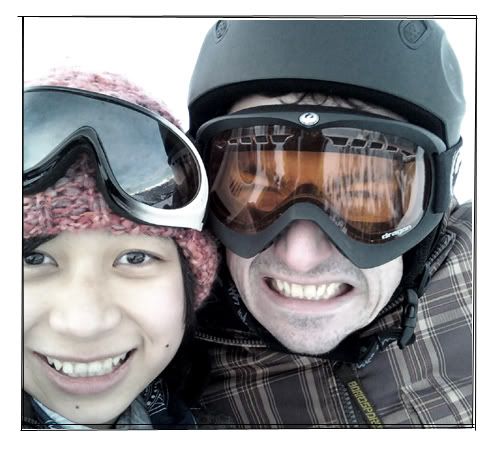 Because we locked all our stuff in the car, we didn't get to eat our Subway sandwiches we'd gotten for lunch. Good thing too coz we had them for dinner! :D They were ice cold, the same temperature we got them in the morning. That's the one thing that's good about being in such a cold country. Even if you leave sandwiches in the car they're good at the end of the day. All your water freezes though.
We were exhausted at the end of the day. I haven't been this tired from snowboarding in ages. I was aching from head to toe. My toes were crushed from my socks clumping up under them all day. My joints were all sore from bending in strange directions. My BUTT was bruised from falling when I was still getting used to the snow. That's definitely the most exercise I've gotten in a while. :P

Posted by jme at
7:02 PM
|
Comments (0)