[CNY Parade]
For the first time in .... FOREVER... my parents braved the crowds with me on the skytrain aaaall the way down to Chinatown to check out the Chinese New Year Parade or Spring Festival.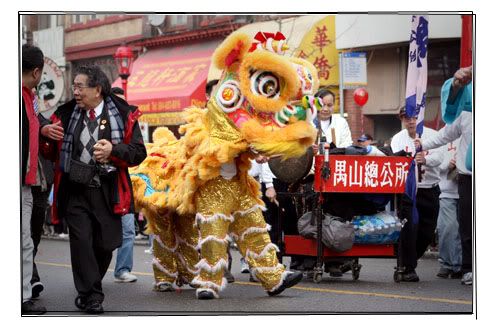 Along with family friends, we tried to beat the crowd down there thinking that since the parade started at 930 in the AM that maybe people would be lazy and sleep in. NOPE! People's spirits definitely weren't dampened by the early start due to Olympic Road closures or the predicted rainy weather. In fact we had such great weather it felt like summer and everyone was over dressed.
When we got there, we found that we got off the train and were right at the end of the parade. We can't stand at the end of the parade! I tried to herd everyone to the front. Crystal and I somehow made it through a gap and onto the street and eventually to the opposite side where we had a clear view of everything.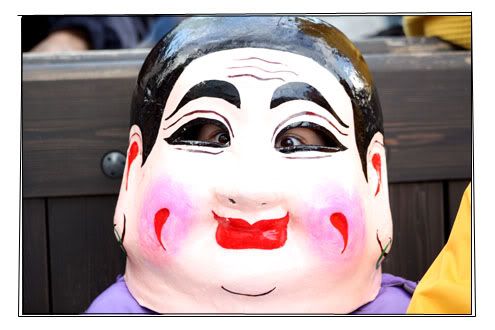 At some point, her dad bought a mask and was wandering around in the crowd. I noticed him and his bright yellow jacket but I wasn't too sure. He was a star though. Every single tourist with their cameras and phones wanted a picture.
After the parade, we made our way down towards the water and for the first time I walked down East Hastings street with all the hobos, druggies and the hobo army. It was a tad bit creepy but with an increase in number of people there, it wasn't so bad. They were actually quite nice. One of them wished me a happy new year! :)
When we reached Waterfront.. oh dear... the people. We went from easy walking to a shoulder bumping butt touching squishy crowd! And guess what everyone's trying to get a picture of! The fricken cauldron! And guess what's in front of the fricken cauldron! A FENCE!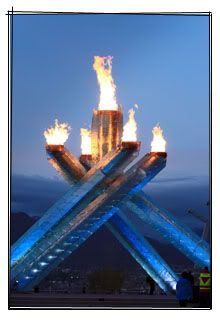 I think that really was the last straw. VANOC's done it after everything else.. they won't even let the public get a nice good picture of the flame. And to top it off, VIP and officials could be seen walking right next to it. They could touch it and hug it and no one could say a thing. They could get great photos! Everyone else had to stand outside like prisoners.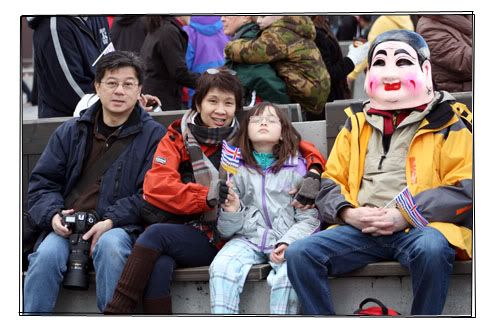 We sat there for a bit. Rory had his mask on which drew lots more tourists.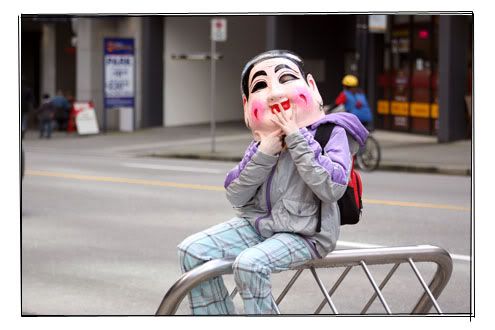 We continued up the street and Crystal drew more attention with her mask on.
Robson Square was just PACKED. I didn't think it could hold anymore people. We sat there for a bit to rest and tan (It was ridiculously hot for Winter) and above us, people were zipping along on the zipline which goes from one side of Robson to the other. We wanted to go on it but the wait for 4 hours. O_O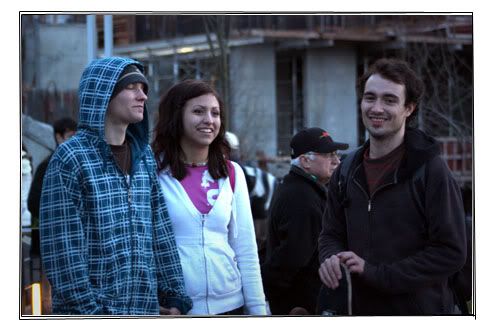 I parted ways and met Ty, Jesse and Lana for our Valentines night out. It was definitely a day of celebrations. Valentines, BC Day, Olympic Events, Chinese New Year. Later on that night we found out that Canada won her first gold medal on home ground. You could feel Vancouver just come alive. The party people were everywhere. :D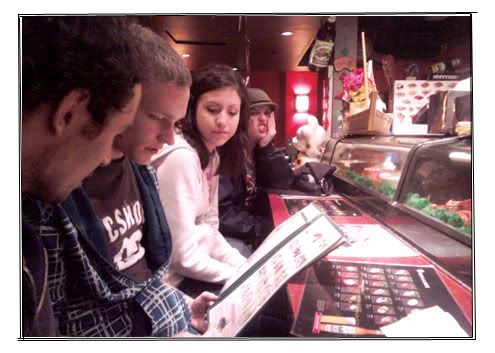 I was starving before we even went back downtown so Ty and I got teen burgers at A&W but Jesse and Lana wanted sushi so we met Mal and went in search for a sushi house. Ty and I shared some Sake and Gyoza. Mmm not such a huge fan of the Sake. It was bitter! And warm!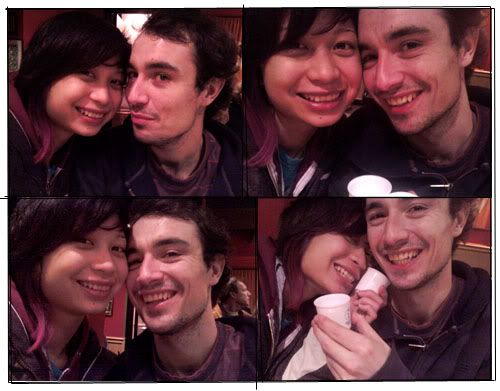 I'd say it was a great day out. :) I was exhausted by the end of it all. Just watching the number of people move around in the city is tiring enough. I thought just maybe there would be a period where there would be no one around. But nope, there were just people everywhere all the time. I think it will be that way for the next 2 weeks.
Posted by jme at
8:01 PM
|
Comments (0)